Too tired to hold the bar of soap ? Don't worry we have a wonderful creamy concoction, just scoop out about a dime size worth and add to a bath puff and watch the thick bubbles appear. You will finish your bath or shower feeling refreshed and moisturized, the only problem is you may not want it to end. Our Bath Souffles are also great for shaving too!
Ingredients:Distilled Water, Glycerin, Sorbitol, Sodium Cocoyl Isethionate, Disodium Lauryl Sulfosuccinate, Sodium Chloride, Phenoxyethanol, Tetrasodium EDTA.
Ingredients: Glycerin, Water, Sodium Cocoyl Isethionate, Sorbitol, Propylene glycol, Disodium Lauryl sulfosuccinate, Stearic Acid, Sodium Chloride, Diazolidinyl Urea (and) Iodopropynyl Butylcarbamate, Tetrasodium EDTA.
lori from gilbertsville
Used in Bath Products
Great for Shaving cream
I love this soap it is my new fav! I love to use this when I shave my legs. It makes your skin feel great.



---



Katie from Hilton Head Island
Used in Bath Products
Love It - A++++
I have been trying to make a foaming scrub base for some time. I tried other cream bases (like this one) and until now had wasted my money. This is an awesome product that is easy to use and no "stinky" odor! WSP you ROCK AGAIN! I know I can always count on you for quality products!!



---



mia from san marcos
Used in Bath Products
Great Product
Wonderful for a bath foam, use colors for kids. Many uses. Great as a shaving foam too!



---



Tracy from Fort Wayne
Used in Bath Products
Awesome!!!
Used to make Facial and Foot Scrub. Works great has the perfect texture and thickness. Just whip and add exfoliant. Easy as 123.



---



Kim from Dallas
Used in Bath Products
Excellent
I was happy to see my favorite supplier (WSP) carrying this base. I love it and it's very easy to make numerous products with it. Even my husband likes the items I've made with this and that's saying a lot since he just likes "soap". Thanks and hope you keep selling this base.



---



Claire from New York
Used in Bath Products
GREAT PRODUCT!!!
Easy to use - easy to scent - easy to package and EASY TO SELL. Hope WSP continues to carry this product as it is a great seller with a good profit margin.



---



Kea from Memphis
Used in Bath Products
It Rocks!!
I can't praise this product enough. I have been using the name brand foaming bath butter mentioned above and this is so much easier to work with and scent. It has a super creamy appearance and feel. Leaves your skin feeling amazing. Beats the other brands hands down. Thank you WSP.



---



Sharon from Houston
Used in Bath Products
Finally a wonderful product
After searching for months on the internet I came across this site and super glad that I did. Initially when I opened the bucket I was skeptical, after scooping a small portion out and whipping it, I am in heaven...This is a great product I am about to add to my website....AWESOME!



---



Ginger from Vivian
Used in Bath Products
Foaming Bath Whip
This is the first bath product i have ordered for my new store. It whipped up beautifully & i added the Green Tea & Ginger fo. My daugher tried it and loved it. I can't wait to make more!



---



Lori from Duluth
Used in Bath Products
Fabulous
I can't say enough good about the quality, possibilities, and excellent value pricing of this very versatile product.



---



Lisa from South Bend
Used in Bath Products
My Best Product
This is the best base I've ever used. I bought a tub of Foaming Bath Butter from another company and it was so rich and creamy I loved it!Then I tried your Foaming Bath Whip. This base is even creamier! I'm so impressed. I add 1oz. of sweet almond oil per 1lb. of the product and it makes it creamier and more moisturizing.



---



tarrin from georgetown
Used in Bath Products
so in LOVE!!
I just got this product today and could not wait to try it after reading the reviews. I added some french vanilla pear f.o. and whipped it up...and I'm am officially hooked!! I can't wait to make body scrubs with it.



---



Marie from Ramona
Used in Bath Products
Great feeling stuff on the skin
This is a blast to play with.Got it on Fri and playing Sat.Fun for sure. Just research the ingredient list so you know what you are selling to unsuspecting people. One of the ingredients is iodine based,people with food allergies to fish/seafood can have a horrible time with this.My Husband did.He has an allergy to iodine.I didn't know until today.Do your research folks.This Whip is quite fun,so nice on the skin, no doubt about it.



---



Andrea from hot springs
Used in Bath Products
THE BEST!!
I love, love, love this stuff! Have used it to make "bath frosting", but my fave is making bath whip! Feels SO good in the shower!! I won't use anything else! GREAT JOB! Never discontinue it!!



---



Kathleen from Harper
Used in Bath Products
Love this!!
This is my new favorite bath product! I have been using it myself, and hopefully I can keep myself out of it long enough to sell it haha. Wonderful as shaving cream too!



---



Angela from Centralia
Used in Bath Products
I'm in Love
OMG!!!!! I love this products makes your skin smooth and silky. My customers a raving about it.LOVE IT!!!!!!



---



Deborah from Canton
Used in Bath Products
I am so glad I ordered this one!
I just got this today. I had previously used another brand of FBB, but was not happy with the texture, nor the order. I got this today, and had to try it right away. I LOVE it. No odor,whipped beautifully, and it feels so nice and creamy on the skin. I can't wait to see what my customers have to say!



---



SHAWN from SAN LUIS OBISPO
Used in Bath Products
This stuff is the BOMB!
I love this stuff. It whips up in no time to a creamy, dreamy consistancy. Holds fragrance really well. I also add sweet almond oil to it. I use this myself, as well as sell it to my customers, and it makes my skin so soft and moisturized. WOW!



---



Michelle from Bothell
Used in Bath Products
Can't Go Wrong!
This base is ridiculously AWESOME! So versatile and very easy to use. Unscented base has no odor and products I make with this turn out luxuriously insanely delicious!! Thank you WSP!



---



Khara from Tustin
Used in Bath Products
Love the lather!
This products produces a fabulous lather. Even my picky boyfriend said, "WOW!" Takes scent very well. Added some jojoba spheres for a frosting appearance. Love it!



---




We have 10 different Learning Libraries filled with information
Free Recipes, Instructions, Videos & Much More!


Saving on Products

Purchase More – Save More

Each product has a single price displayed on the main product page. Next to this price is a down arrow. If you click on this arrow, additional price breaks will appear for that product. We offer additional price breaks for the majority of our products. Utilizing these gives you the highest discount available.

We do not have "hidden" or "additional discount" price sheets for special customers. We feel strong that all of our customers are special and therefore all should have equal opportunities for lower pricing.

Surplus Products

Every week, we contact various manufacturers in an attempt to purchase their excess packaging inventory. These are perfectly good items that manufacturers over produced. We negotiate deeply discounted prices and then pass this savings on to our customers. It is really a win-win for everyone. The manufacture gets the useless inventory off of their accounting books, WSP customers get great products at a discounted price, and it puts these items to use – saving them from being dumped in a landfill.

Check out our "Surplus/Closeout" tab at the top our website. This is a great quick link to all surplus items we currently carry. Once a surplus item is out of stock, we are unlikely able to offer it again.

Sales & Specials We follow our inventory very closely. Frankly sometimes we make mistakes ordering inventory or popular items become less popular over time. When this happens we place the identified products on sale, typically below our cost. It is our philosophy is once an item has been identified as having an issue, correct the issue quickly and move on. This is good for our customers because it offers fantastic deals.

Debbie's Blog is the best place to be the first to read about these offerings. The WSP homepage has a link for her blog! By the time a newsletter is sent, items can be sold out so be sure to check the blog daily.

Saving on Shipping


Pick Up Orders

Our main distribution center is in Cleveland, Ohio. If you are in this area, you may pick up your order during regular business hours. Our warehouse staff will load your car or truck at no charge. We do not offer pick-ups from our other distribution centers.

Wholesale Supplies Plus has a "walk in" show room. You may sniff fragrances, browse items and place an order. You will be asked to wait while your order is invoiced and fulfilled. Depending on the order, this may take up to an hour. We do not offer warehouse tours.

We do have a distribution center outside of Austin, Texas. Pick up orders is not available at this location.

Truck Load Delivery

If you are purchasing a large number of the same or different products, shipping by freight truck can save you a significant amount of money. If you are unable to have a 53 foot truck come to your location, you can arrange to pick up your shipment at the local trucking freight.

By shipping freight line, you will generally begin to realize a savings at 400 pounds. We have discounts of up to 88% with many freight companies. We pass this savings on to you!
If you are in need of Material Safety Data Sheets (MSDS) for any product you have purchased from us, please call us at 1-800-359-0944 and we will be happy to assist you.
Please note that MSDS sheets provide information on how to handle materials purchased at Wholesale Supplies Plus. Manufacturer's names and country of origin is not included on the document.
Creamy Bath Souffle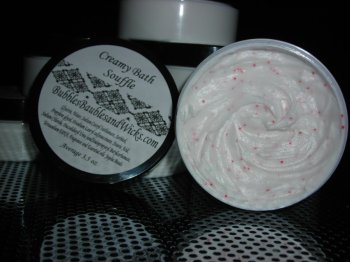 $ 5 USD