Our Bath Scrub Cubes come in your choice of scent and color that are available on the personalization page. Use several to smooth over your body and paying attention to rougher areas like elbows/ knees and feet. Leaves skin soft and moisturized. CAUTION: May cause the tub to be slippery, please use care when entering and exiting, thank you.
Ingredients: Glycerin Soap, Almond oil, Grapseed oil, Sugar, skin safe fragrance oils, essential oils and colors.
NOTE: Pictures of refills bags, and on the go bags coming SOON !
Sugar Cube Scrubs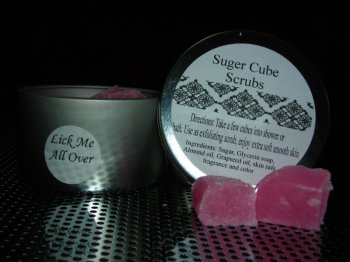 $ 5 USD